Words With Waiting: Patton Oswalt, Comedian & Writer
Interviewer:
Gambit
Interviewee:
Patton Oswalt
You may have seen his stand-up special, read some of his comics, gone to one of his shows, or caught him on TV, but these days it's hard to not know about Patton Oswalt. He's one fourth of the amazing "Comedians Of Comedy," and a gigantic comic book fan. In fact, he has written quite a few issues from very popular long-time series such as JLA and Batman. Later this year, he will lend his voice as the lead role of Brad Bird's new animated picture "Ratatouille."

Gambit: First off, what have been up to lately? What's on your pull list? Anything your really enjoying or hating?



Patton Oswalt:

Trying to go onstage as much as I can and write new material. I'm recording a new CD in November, and I want to generate a lot of new stuff.

My pull list? I read so many comics. Let me just list wheat I read this week:

CAPTAIN AMERICA and DAREDEVIL
Ed Brubaker's having a great time dropping forthright Captain America into the middle of today's twisty, all-grey area world of espionage and international intrigue. And Daredevil fighting his way out of prison? Holy shit! Plus, he got the artist to draw me and Brian Posehn into it.

BIRDS OF PREY
Just for Gail Simone's handling of the sad, funny little scene at Ted Kord's grave.

POWERS and NEW AVENGERS
Bendis!

Plus about twenty more. I'm a sad man.

Gambit: I attended the SXSW show you did with Brian Posehn, Aziz Ansari and Eugene Mirman, and it was one of the best shows I've seen judging from years of going to the event (I live in Austin, so it's right down the street.) I think you guys made everyone in the cry their eyes out from laughter. What has been your best and worst show during your years of traveling the globe and handing out chuckles and giggles (in a macho way, though) to the masses?



Patton:

Best: The recent Chicago show we did at the end of the last Comedians of Comedy tour. Good Lord.

Worst: Getting booed offstage at the Funnybone in Pittsburgh.


Gambit: "Welcome To The Working Week" (The comic, not the song) was one of my favorite JLA-related anything in the past few years. You managed to master things that even big names couldn't and haven't. Plus, it had Ambush Bug. Instant classic. What was it like writing it and did you expect to get such great feedback about it?



Patton

: I had a little too much fun writing it. I appreciate your praise, but I think the story's a little thin, especially in the third act. But I had fun shaking out my idea notebook onto the JLA, and exploring all the stuff I'd always thought about them. And, of course, the good reviews felt really good.

Gambit: In all of the years of comic reading you've had, what has been your all time favorite character and writer if you had to narrow both categories down to one? Has any comic material influenced your stand up or overall sense of humor?



Patton

: The Golden Age Sandman, as developed by Matt Wagner and Steven Seagle. I don't know if any cartoonist's stuff influenced my stand-up. Ivan Brunetti, maybe.

Gambit: So I've been wondering why your Hostess fruit pies spoof didn't make it to the "Wha Huh?" issue. What was the reason it went unused? Did Mahfood do any drawings of it



Patton

: I think it was the Hooker Hacker stuff. I don't even think Mahfood got to the drawing stage.

Gambit: I watched the "Super Nerds" pilot you did with best friend in comedy and life Brian Posehn, and liked it a lot. Why didn't they pick it up? What could we have expected if it was still on the tube?



Patton

: They didn't pick it up because we never figured out a specific viewpoint for the show, I think. It's pretty uneven. But if they'd given us time to let it live and breathe, it would've gone in a very YOUNG ONES direction, which is how we conceived it.

Gambit: You've done a lot of cool voicework, too, such as Toymaker on "The Batman" and Mr. Groin on "Amazing Screw On Head," not to mention the work you did on "Batman Beyond." Any plans on doing any other films or voicework for comic related things? Screenplaying "Planetary" or something?



Patton

: Jesus, I'd love to write a screenplay for PLANETARY. Although PLANETARY should be a TV series. I don't know what kind of comic book v.o. work is coming my way. It's not something you can plan.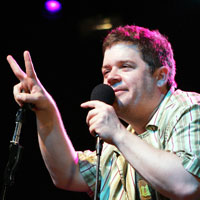 Gambit: I caught the trailer for Ratatouille at the movies the other day, and it looks pretty good. What was it like working with director Brad Bird of "Incredibles" and "Iron Giant" fame and being the star of a Pixar animated movie? Did you have trouble keeping it clean for all the kids out there?



Patton

: It's as amazing as you think it'd be.

Gambit: If you could start writing any title tomarrow, what would you choose, and what would you do differently?



Patton

: SUICIDE SQUAD, and I'd make it way more entangled in the hero community of the DC Universe.
---
You can hear more of Patton's insights, rants and raves on his website which he updates almost dail, or on his "Comedians Of Comedy" tour.

Patton Oswalt's Website
The Unused "Wha Huh?" Story
Ratatouille Trailer
"Amazing Screw On Head" Pilot